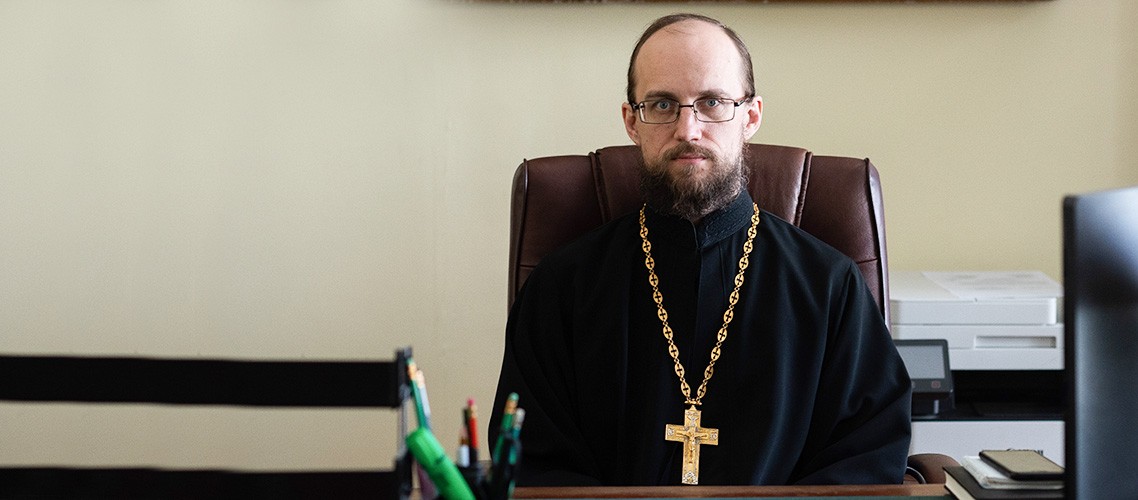 We gave teachers a certain level of freedom in choosing the form of lessons.
Due to the coronavirus prevention acts, the Moscow Theological Academy switched to distance learning. Priest Pavel Lizgunov, Vice-Rector for Academic work, commented on how the theological education is implemented in a new form.
Father Pavel, could you comment on how distance learning is implemented at the Academy?
First of all, we are guided by the orders of the Ministry of Education and Science and the regulations of the Study Committee.
Our educational process is organized in the Electronic Information and Educational Environment, which was especially developed for the Academy. It is created on the Moodle platform and provides all the necessary functions. For example, you can upload tasks for students and check their progress, publish any materials, post tests, etc. There is also a video conferencing function that enables to provide online classes for a group of students. In a word, it has quite convenient and diverse functionality.
We have had this educational environment for a long time, but before it was used to a much lesser extent than now. Due to the fact that the quarantine situation arose quite suddenly, we encountered some technical difficulties. Now the system is being debugged so teachers and students are able to communicate during video classes and seminars. And I should say that many of our teachers have already done courses via this system.
What's more, to keep the educational process going despite technical troubles while updating some modules, we readily use other software tools. For example, it is more convenient for someone to conduct classes on Skype, especially in small language groups, or send assignments to students by e-mail. But all these software tools do not form a single environment, and as a result, give fewer opportunities both in terms of maintaining the necessary information and its proper control. However, we have to allow them as a temporary measure.
In addition, we are connected to the distance learning system of the Training Committee. It helps us to provide materials for the first three undergraduate courses. Most of them were developed by our teachers who currently teach these courses at the correspondence department of the Academy.
So, that is how we try to provide any possible opportunities to enable the teachers interact with their students.
What is the distance learning schedule?
Different educational institutions solve this question in different ways. Some of them follow the current schedule or with a slight adjustment so that all webinars correspond to real time classes.
But we decided not to go this way. We have fairly large courses of 70-90 people each. So, for them, full-time training is very inconvenient for a number of reasons. Firstly, the large geography of our students' places of residence and many of them live in different time zones. Clearly, connecting to a lecture all at the same time is extremely inconvenient.
Secondly, we should take into consideration some living conditions as they might be completely. For instance, some students have none or really slow Internet connection and it makes them unable to constantly be in a lecture online. For others, tough living conditions do not allow it. For example, if a person lives in a large family (and we have a lot of such), in which several family members study remotely during quarantine and are constantly forced to stay at the computer, this will be rather problematic.
We understand that living conditions in a family, at home and the ones in the Academy are absolutely different. It seems to me that it will not be profitable to try to artificially impose our academic rules and regulations on another learning environment.
For these reasons, we did not become rigidly attached to the schedule and gave teachers some freedom in choosing the form of training. It's more convenient for someone to conduct a webinar, for others to give topics for an essay and then check later. But the main thing is that we oblige teachers conduct classes frequently that corresponds to the established schedule. So, if scheduled classes are held twice a week, then it is necessary that the materials are also given twice a week. If the seminar is held once a week, then the teacher should do a survey once a week and evaluate students.
Generally, nothing happens in life by chance, and any situation, even the most negative, opens up new opportunities. Firstly, we were made to debug our electronic system; and secondly, we can teach students to work in the forms that we usually neglect, especially, writing an essay. This form is not used as often as it can be in full-time education, but now we are forced to use it as one of the main strategies. Unfortunately, most students lack writing skills.
Is there a system of "duty assistants" in the remote version? Does someone monitor the presence of students during webinars, for example?
Of course not. I have already said why, in principle, we do not introduce a system of compulsory online mode. I believe that this is unrealistic and unjustifiably strict. We consulted with the Study Committee on this occasion and were supported in our position.
Technically, the webinar shows who is present, but it is clear that we cannot achieve 100% attendance, and we will not. But, on the other hand, we can control students' assignments. If a teacher gives an assignment, it will take quite a limited time to complete it. Then it will be checked and a student will get his grade. In case the student does not finish the assignment on time, then he will get a negative mark, that's it.
Do you think that the current situation might affect the facilitation of educational materials?
Certainly, full-time study is hard to replace by something else. Here, along with simply getting information, there are many other factors which affect successful studying process. For theological education, for example, the chance to stay the Holy-Trinity St. Sergius' Laura and be able to talk to our teachers who definitely have a certain spiritual and life experience plays a huge role. This, of course, cannot be replaced by any remote system. In this regard, the damage to our education is huge. But we, at least, try to minimize losses. So, at least from the point of view of obtaining useful knowledge and information, they would not lose much.
Interviewed by Anastasia Sergieva