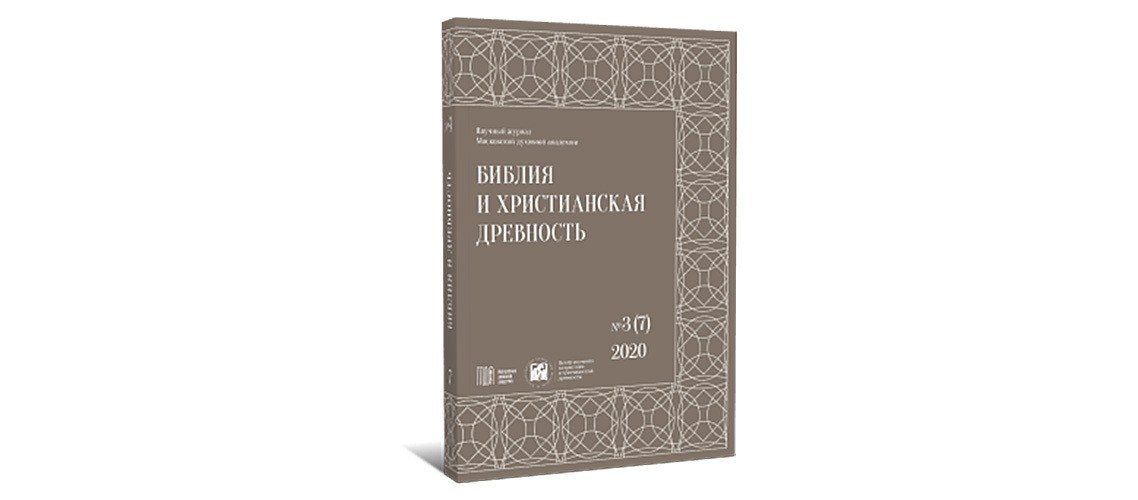 19 October 2020
The seventh issue of the journal "Bible and Christian Antiquity"
The Center of Patristics and Christian Antiquity Study at the Moscow Theological Academy published #7 of the "Bible and Christian Antiquity" journal. This issue presents seventeen publications divided into six sections according to different areas of Christian knowledge: 1) critical editions, translations and commentaries; 2) researches in patrology, hagiography and biblical studies; 3) notes and bibliographic reviews; 4) criticism and discussion; 5) reviews; 6) chronicles and overviews of scientific events and conferences.
• A.V. Sizikov "The Epistle of the Patriarch of Antioch Peter III on unleavened bread" presented a critical edition of an Old Russian text accompanied with parallel Russian and Greek translations.
• Priest Alexander Polkhovsky published "The Epistle to Publius" by a 4th century Syrian writer firstly translated into Russian with an introductory article and comments.
• "Dialogue of Methodius of the Olympia on Resurrection and the methodology of critical publication of Slavic texts". Written at the end of the 3rd - beginning of the 4th centuries in ancient Greek, which is firstly published full version in Slavic translation.
• A.V. Pilgun provides a collective portrait of a demon based on visionary texts from the 7th to 11th centuries in his article "Tormentor, hypocrite, enemy: the guise of a demon in Latin visionary texts of the 7th-11th centuries."
• J. Eidelkind mentions some peculiarities and proposes a new method of reading the book "Song of Songs" in his research "Notes on how to read the Song of Songs".
• A.V. Sizikov presents an overview of "An Alternative Prologue" to the Greek text of the Book of Jesus the son of Sirakh's Wisdom.
• I.S. Vevurko gives an overview of the Bulletin of the International Organization for the Study of the Septuagint and Related Texts.
• The "Criticism and Discussions" section presents a book review for I.А. Bessonova's "The Prophecies of the Book of Daniel: Origins, History of Exegesis, Interpretation. The Kingdom of the Saints of the Most High and World History" by A.S. Kashkin.
• There are also six reviews by D.I. Makarov on H. Capps's monograph "Controversy surrounding Epiclesis at the Florence Cathedral"; A.S. Kashkin on publications of the 13th issue (2015) of the "Aramaic Studies" journal; Priest Alexei Volchkov on Hegumen Innokenty (Pavlov)'s study of a life of first Christian communities according to Didache; A.V. Pikin on a collective monograph "Europe of Saints. Social, political and cultural aspects of holiness in the Middle Ages"; A.S. Kashkin on J. Eigus's monograph "The Evolution of Jewish Religious and Philosophical Thought: from Biblical Times to the Mid-20th Century"; M.S. Sysoev on the monograph "Ancient Philosophy of Religion from the Beginning of Greek Civilization to Aristotle".
• In the last section a reader can read a view on the conference" Rome and Jerome "dedicated to the 1600th anniversary of presentation of Blessed Jerome "Jerome and Rome" presented by Deacon Nikolai Shablevsky.
Editor-in-chief is Associate Professor Deacon Sergiy Kozhukhov.