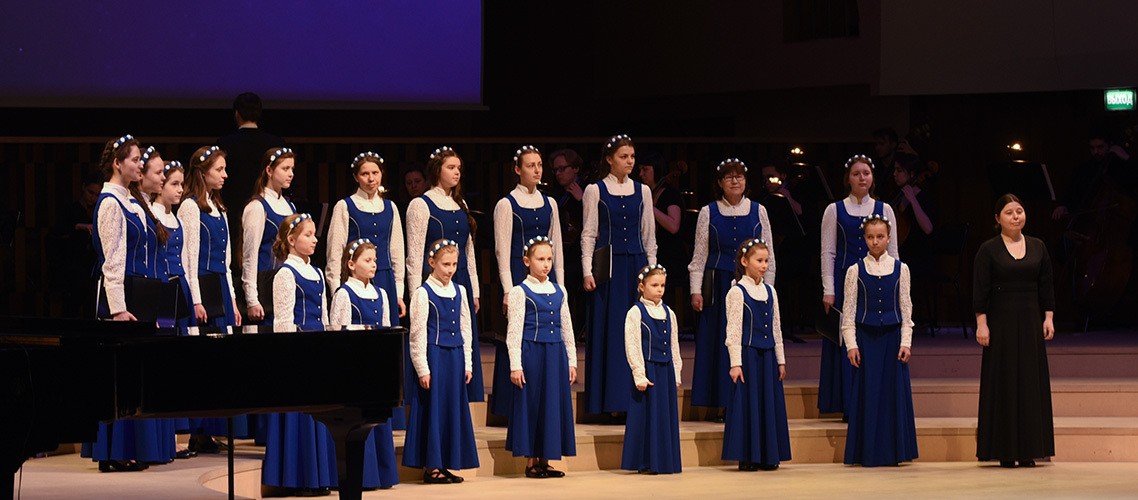 30 March 2021
Choir under the conduct of an MThA teacher of the Faculty of Church and Singing Arts won a prize at the X Moscow Festival of Sunday School Choirs
On March 28, the X Festival of Sunday School Choirs took place at the Big Hall of the Zaryadie Concert Complex in Moscow. The festival has been held annually since 2012, each time increasing the number of participants. This year more than 400 contestants took part in it.
The main aim of the Sunday School Choir Festival is the spiritual inspiration and the development of ethical and moral principles in younger generation as well as preservation of national musical culture traditions. The participants of the jubilee event presented a remarkable program, including masterpieces of church and classical music. The festival featured works by V. Kalinnikov, A. Ostrovsky, A. Pakhmutova, P. Chesnokov, A. Akhmetova, I. Cherkizova, S. Trubachev, Y. Markelov, A. Kastalsky, V. Shkaburin, L. Knipper, L. Spevachek, F. Mendelssohn, I. Dunaevsky, S. Banevich, G. Sviridov, P. Tchaikovsky. The children's department of the Synodal Choir first presented a piece "Icon" written by a composer Anton Viskov accompanied by the author himself.
Finally, the vocal and choral ensemble "Annunciation" under the conduct of the MThA teacher A.S. Streltsova became one of the festival laureates.
Our congratulations to Anna Sergeevna and many good wishes to all choristers.
The MThA Press Office/Patriarchia.ru