28 February 2020
The exhibition "Trinity-Sergiu's Laura in Contemporary Painting" was opened at the MThA Museum.
On February 26 the exhibition "Trinity-Sergiu's Laura in Contemporary Painting" was opened in the Elizabethan Hall of the Moscow Theological Academy.
The exhibition features 25 landscapes of the "Zolotoy Ples" Gallery which organizes outdoor open air art sessions. The presented paintings were created in the Trinity-Sergiu's Laura in 2017-2019.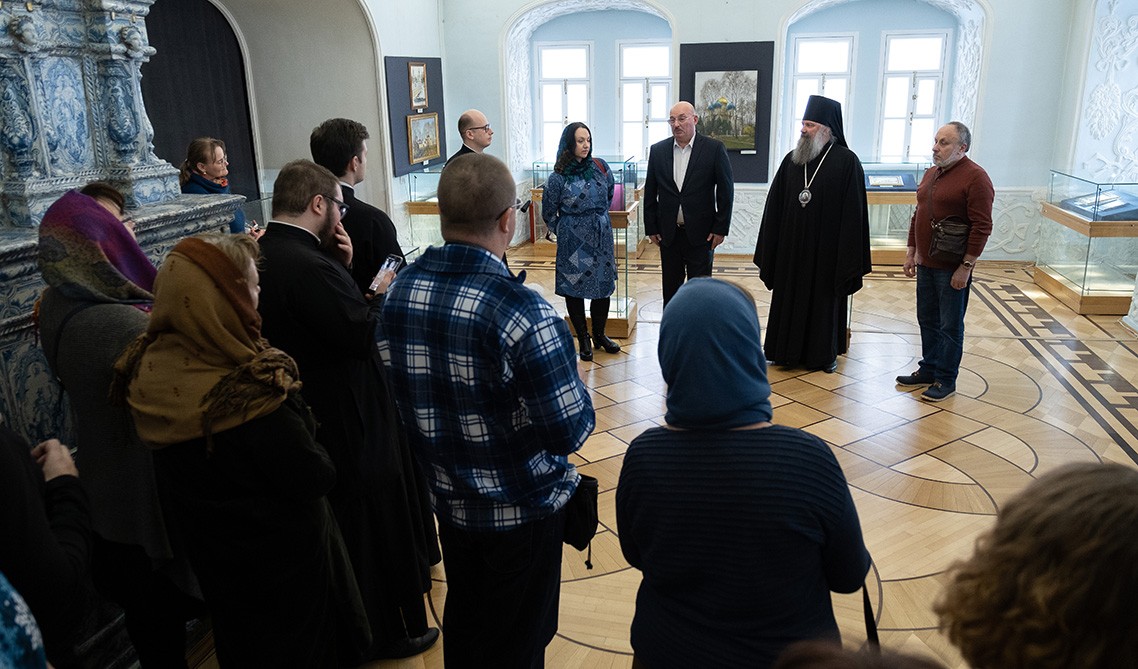 At the opening ceremony the bishop of Zvenigorod Pitirim, Rector of the Moscow Theological Academy, thanked the exhibition organizers and artists for their work and expressed hope for further cooperation:
Despite being rather small and compact, the "Zolotoy Ples" exhibition shows a high level of presented works and a general organization. We are especially pleased to see paintings dedicated to Laura which is our home. Each artist puts his creative vision into his work. As a result, familiar images began to play differently, so we can rediscover the Trinity-Sergiu's Laura. It is always very interesting when such transformation of familiar views takes place. I thank the organizers and artists for such wonderful work and look forward for future cooperation».».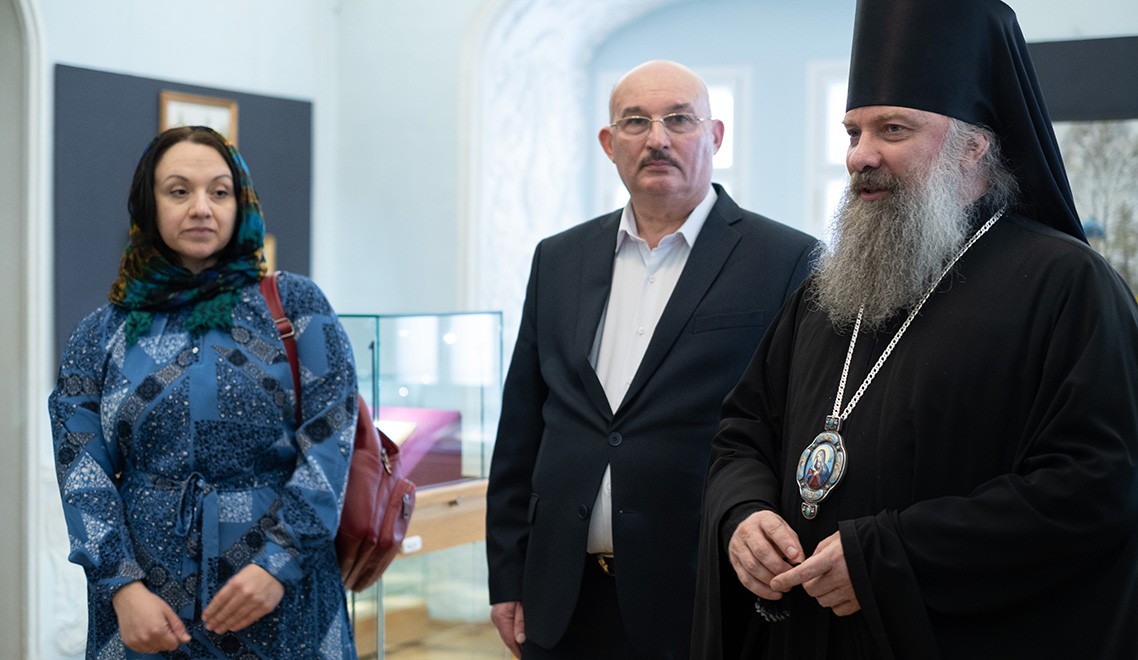 Anton Novikov, Director of a museum, also greeted the organizers and participants of this project.
I am very grateful to bishop Pitirim and I would like to thank all the participants. Let me wish you God's help in your creative work. Personally, it was wonderful experience that I happened to be involved in the process of organizing this open-air. I am very glad that our museum can present your paintings and show them to everyone who is fond of art».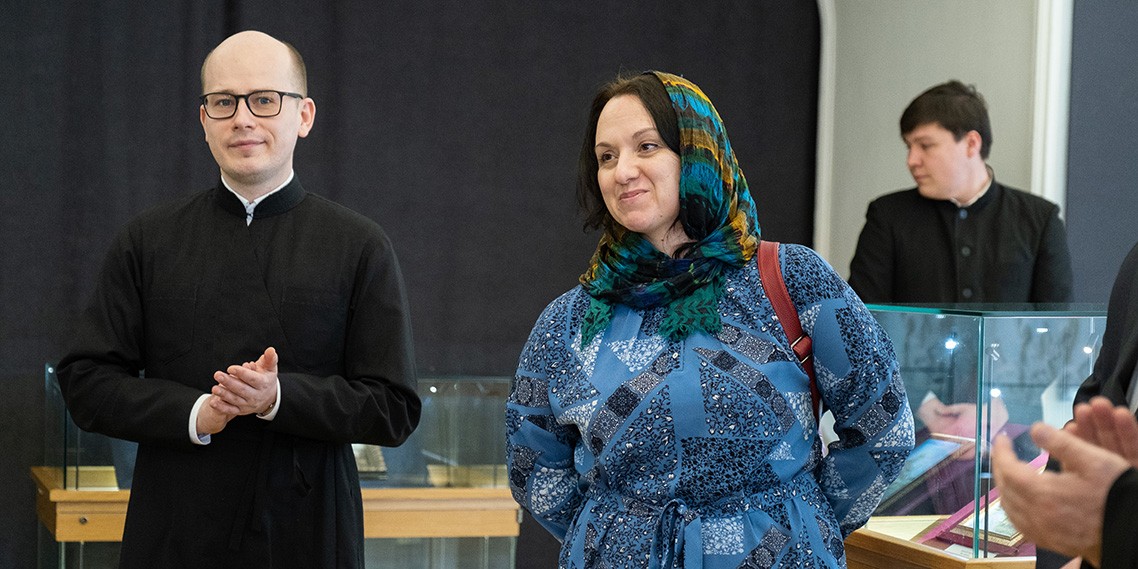 Ilia Kucherenko, Director of the "Zolotiy Ples" Gallery said a welcoming speech and introduced two artists who presented their work at the exhibition:
It is a great honor for the gallery and artists to exhibit in such a historical place that was visited by great people of Russia. This exhibition reaches a museum level, so I am grateful for an opportunity provided by the Theological Academy, Bishop Pitirim and Director of the MThA Museum. Also I would like to express my gratitude to bishop Paramon for organizing open air sessions this autumn.

The task that lies before modern Russian painters is to continue our traditions and to maintain the glory of Russian famous artists. Today, two artists, whose work evokes emotions and delight, are present here. This is an honored artist of Russia Igor Alekseevich Orlov. In addition to his paintings at the exhibition, you can view his wonderful canvas showing Valaam landscape on the administrative floor of the Academy. So those who have not seen this exhibition yet can also enjoy a collection dedicated to the Valaam monastery.

Let me introduce you Anastasia Lobova, an artist and a Glazunov Academy graduate. Her miniatures are absolutely delicate and presented here as especially valuable items. I think that the exhibition will be of interest to everyone who is going to visit the Moscow Theological Academy Museum. For our part, we will invite some guests from Moscow as well».
Igor Orlov shared his impressions of visiting the St. Trinity- Sergiu's Laura and the Moscow Theological Academy:
For a Russian man and the Russian spirit, a contact with history is extremely important. You live in a historical place which has deep and strong connections with all Russian history. This sublime feeling is difficult to convey, but it forms a responsibility for the future of our country. Clearly, this historical layer, which we live in, obliges us to do so. Thank you so much for organizing this exhibition and making possible to exhibit your work here».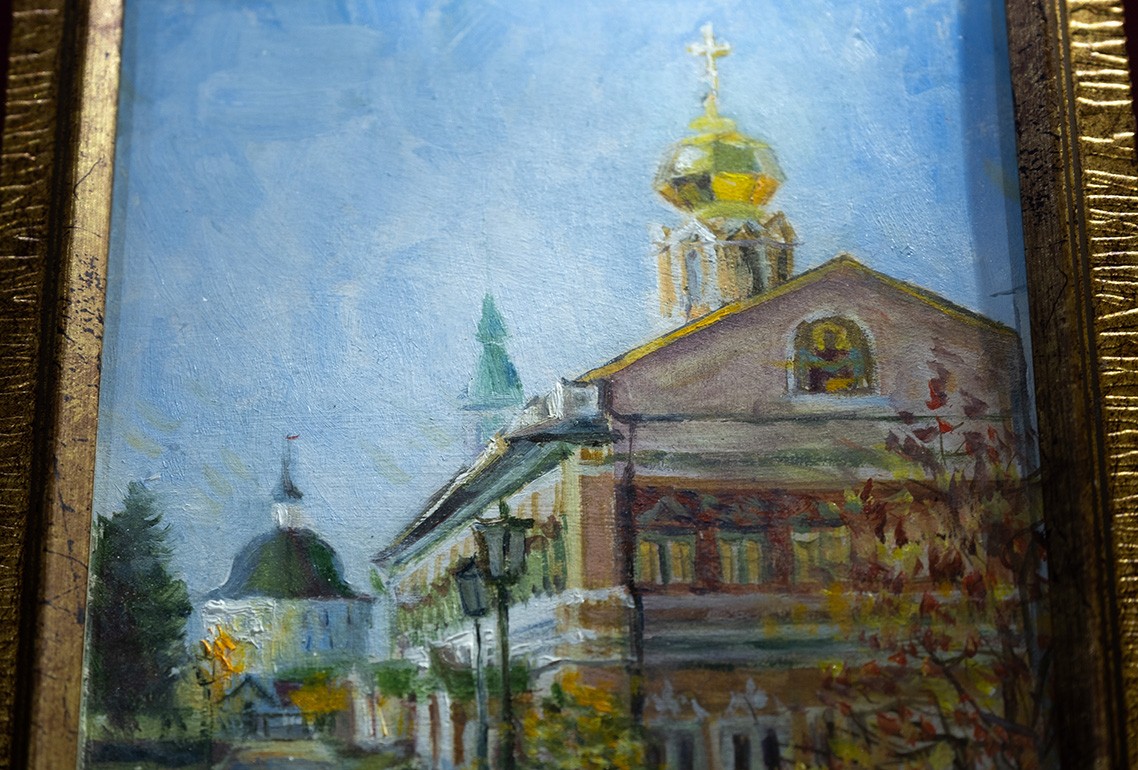 The exposition is on display until the end of May.
Background information:
Пленэ́р — живопись, которая создается на природе, под открытым небом. Во время работы на пленэре можно живо и полно передать особенности естественного освещения и световоздушную среду.
The MThA Press Office