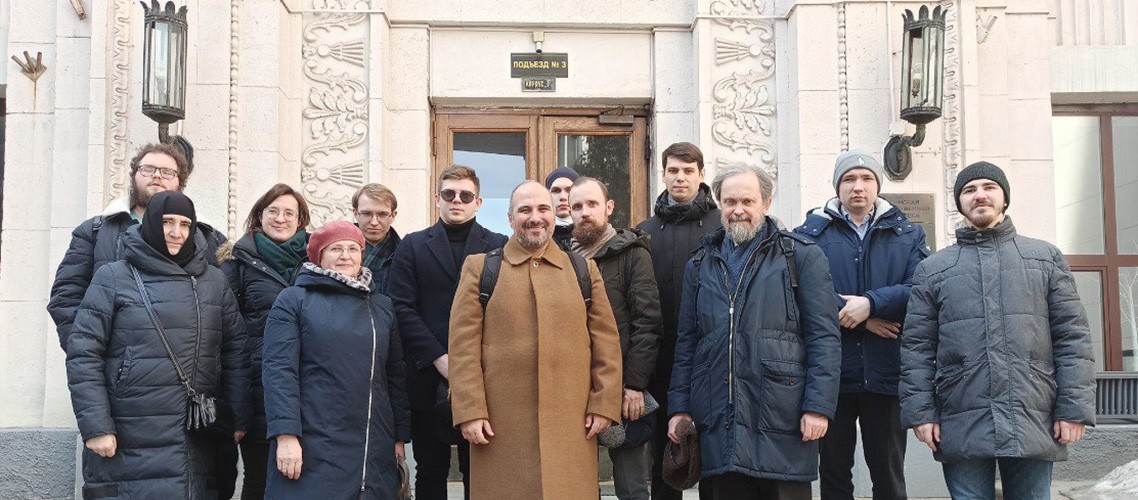 22 March 2023
MThA students went on an excursion to the Russian State Library
On March 20, as a part of a seminar on the Book History students of the Moscow Theological Academy visited the Russian State Library. M.S. Krutov, Doctor of Philology, a chief paleographer at the Department of Manuscripts of the Russian State Library and Professor of the Moscow Theological Academy, held a workshop.
At the Book Museum M.B. Zolotova, Head of the Sector of Museum and Exhibition Work of the Department of Rare Books, welcomes students and spoke about the history and current state of the Book Museum of the Russian State Library. The museum has been opened to visitors since 1983. It presents unique copies of foreign and Russian publications of the XV-XXI centuries, samples of circulation and original graphics; printing materials and tools; memorial things of outstanding book entrepreneurs; over 1000 books and items related to reading and writing. There are also first editions of works by famous writers and scientists.
The seminar continued at the Center for Oriental Literature, where a chief librarian D.V. Ognev demonstrated a rich card index and took students on a guided tour of eight reading, exhibition and conference rooms, accomplished by language, explanatory, phraseological dictionaries and reference books, bibliographies, monographs, textbooks, scientific works on oriental studies, general encyclopedias in Russian and foreign European languages.
At the end, a chief librarian O.I. Izhbulatova introduced students to the history of Chinese, Japanese and Korean writing. Students also learned that first Eastern books were written on stone, then wood and, finally, became paper, which was invented in China in 105.
Excursions raised a vivid interest and lively discussion on book history.
The MThA Press Office