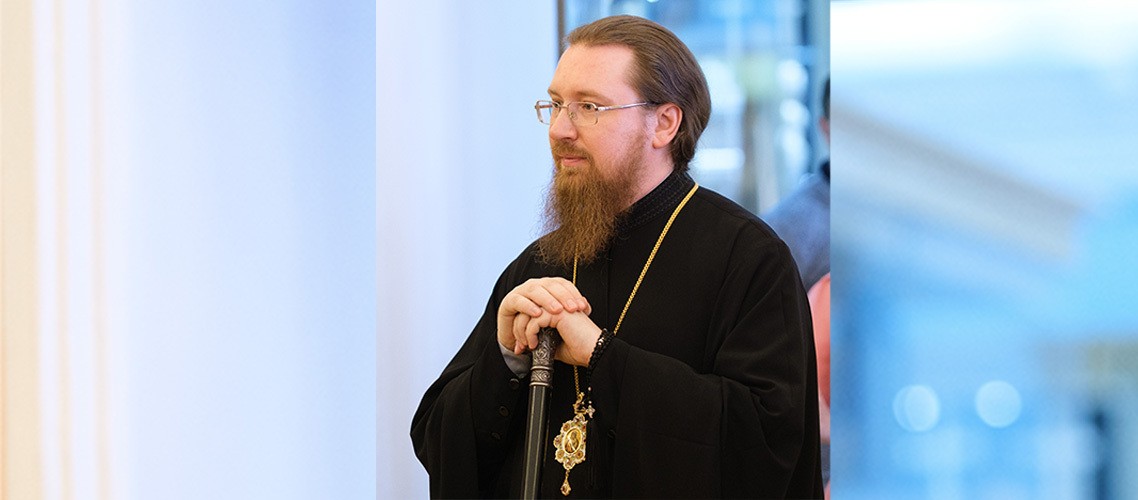 19 August 2022
The Academy congratulates the Rector on the 5th anniversary of his episcopal ordination
On August 19 at the feast of the Transfiguration of the Lord, the Bishop of Zvenigorod Theodorite, Rector of the Moscow Theological Academy, celebrates the 5th anniversary of his episcopal ordination. Teachers and students of the Academy greet the Rector on the memorable date.
To His Grace Bishop THEODORITE,
The Bishop of Zvenigorod, Vicar of the Patriarch of Moscow and All Russia,
The Rector of the Moscow Theological Academy
Your Grace!
We cordially congratulate you on the 5th anniversary of your episcopal ordination.
Thanks to the Lord, your fruitful service brings many good results. Giving all your strength, talents and time to your work in such a responsible church-administrative post as the Rector of the Moscow Theological Academy, you are making an invaluable contribution to the Russian Orthodox Church inspiring a spiritual life in people.
Your gospel-like manner to hear and respect everyone helps you to develop an effective cooperation with representatives of the scientific, educational and cultural community.
Your pastoral and administrative experience, spiritual prudence, firmness in decision-making and zeal for the glory of God earned you the love and respect of the academic staff and students.
On this memorable day, we wish you, the strength, patience, inspiration and God's inexhaustible help in your useful service zealously performed for the benefit of the Moscow Theological Academy and the entire Church.
May the Lord keep you in health and prosperity for many years.
Asking for your holy prayers and blessings,
Teachers and students
Moscow Theological Academy
August 19, 2022