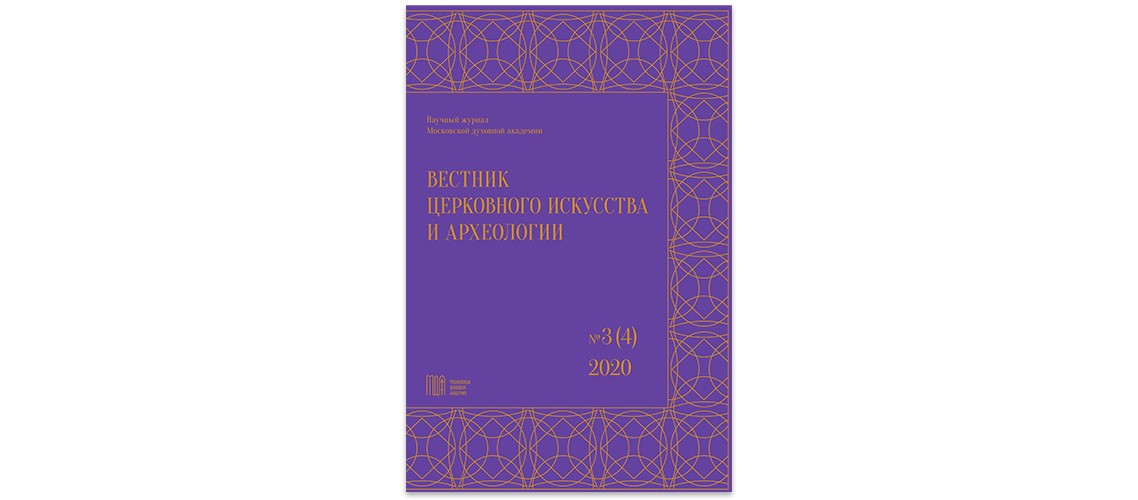 17 April 2021
New issue of a scientific journal "Church Art and Archeology Bulletin"
The Department of Theory and History of Church Art of the Moscow Theological Academy has released the fourth issue of a scientific journal "Church Art and Archeology Bulletin".
The issue presents a number of topics on Church art from antiquity to the present as a complex of artistic life, which accompanies a church life and is integrated in Christian practice.
The journal examines the phenomena of Christian art, both within the Church and in the everyday life of an average Christian in the past and present.
The peculiarity of this issue is its general theme. It publishes materials related to the study of church and religious art of the second half of the 19th - early 20th centuries. Authors consider the studying of monumental church painting, icon painting as well as religious art in general. A number of articles are dedicated to features of church architecture of the time. Previously unknown materials about the work of famous and little-known masters has been published.
The issue presents such works as P.S. T'urin's icon-painting art, A.I. Savinov's monumental painting, G.G. Gagarin's projects. Several articles touch upon biblical subjects in the works of I.K. Aivazovsky, V.D. Polenov, V.I. Surikov.
CONTENTS
RESEARCH AND ARTICLES
Fine arts
Mira E. Daen «Некоторые особенности иконописного искусства академика П.С. Тюрина».
Anna L. Pavlova "The Unknown Provincial Church Murals of the XIX — Early XX Centuries Painted after the Famous Metropolitan Patterns"
Galina S. Churak "Biblical and Evangelical Topics in the Art of I. K. Aivazovsky"
Galina V. Aksenova "Claudius Vasilievich Lebedev as a Church Painter and a Bible Illustrator"
Alla K. Kon'enkova "The New Testament Images in the Works of Sergei Timofeevich Kon'enkov"
Ekaterina O. Miroshina "Features of A. I. Savinov's Monumental Church Painting"
Ekaterina A. Skorobogacheva "Mural Painting of the Nativity of John the Baptist Church in Presnya: Issues of Genesis, Iconography, Attribution"
Architecture
Ilya Ev. Pechenkin "The Seeking for the Image of Church Building Through the Late Russian Empire (Marginalia of a Mainstream Architectural History)"
Inessa Nikolaevna Slyunkova "Church Murals Based on G. G. Gagarin's Sketches and an Appeal to the «Builders of Russian Сhurches»"
ART AND SOCIETY
Articles, Essays
Vladimir Vl. Blokhin "Vasily Surikov's Time (Reflection on the Spiritual Challenges of the Era)"
Olga D. Atroschenko "Vasiliy D. Polenov's Gospel Stories in the Context of Religious Philosophy of the Second Half XIX — Early XX Centuries"
Ksenia A. Shalme (Aleksandrova) "Heralds of the Resurrection in Russian Art. Through Time"
The MThA Press Office