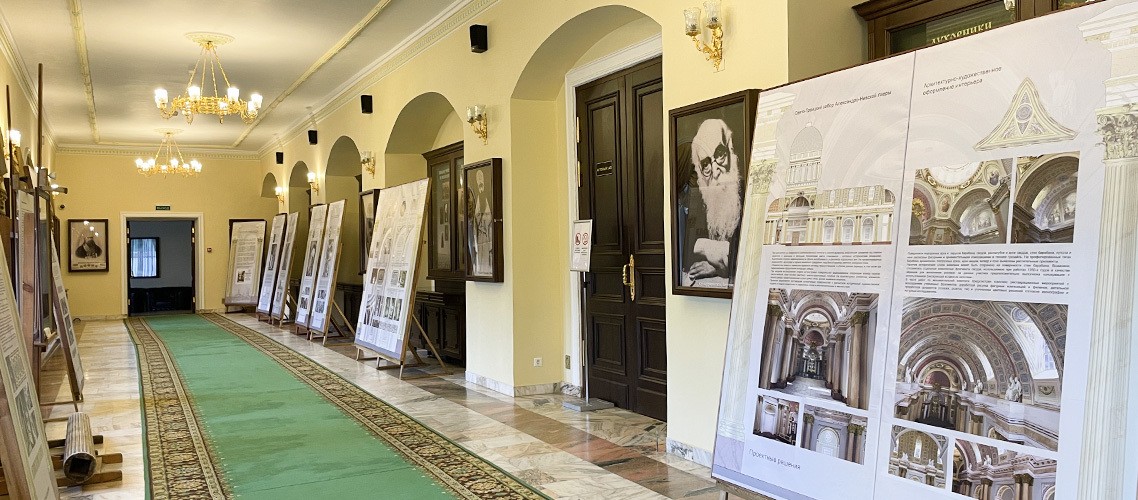 14 October 2022
The exhibition "The Holy Trinity Cathedral of the Alexander Nevsky Lavra. Architectural and Artistic Interior Design"
In October 2022, the Moscow Theological Academy hosts the exhibition "The Holy Trinity Cathedral of the Alexander Nevsky Lavra. Architectural and artistic interior design". The exhibition is dedicated to the upcoming complex restoration of the main church of the oldest monastery in St. Petersburg.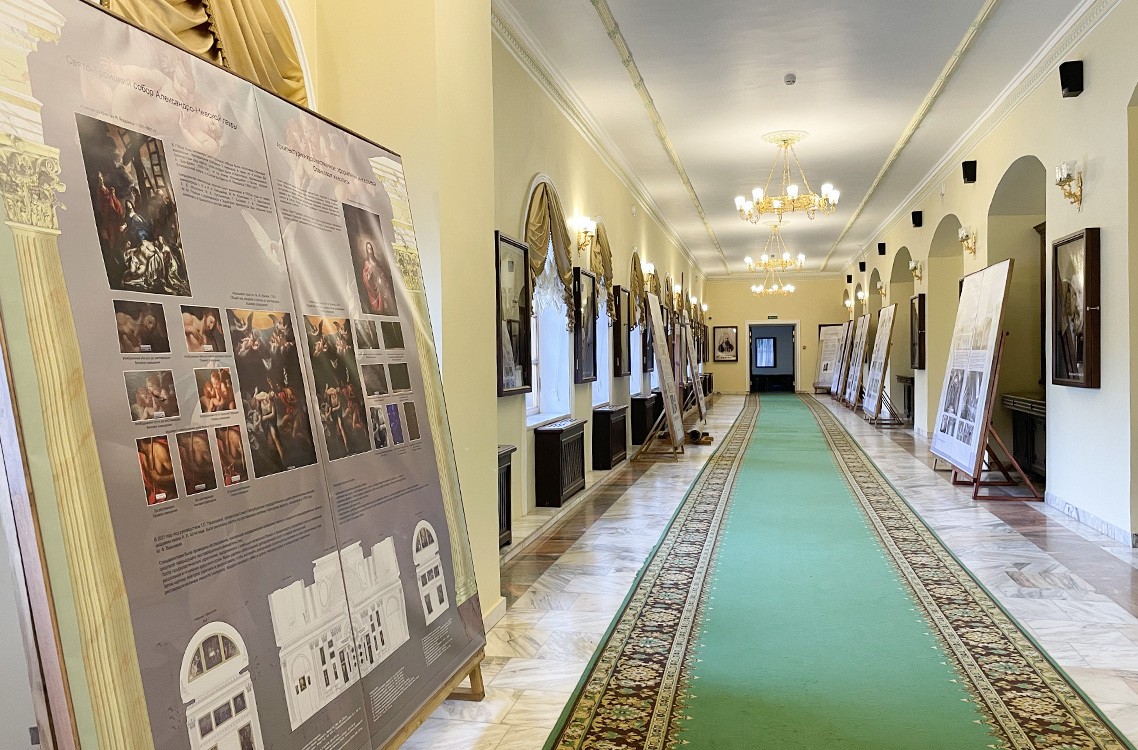 The exhibition gives some information about history of the Trinity Cathedral. There are photo materials about different time periods and detailed information about the proposed restoration activities.
In 2021, complex research work on the artistic design, architectural and sculptural decoration of the Holy Trinity Cathedral, was carried out. As a result, specialists made a project for the restoration of its interior.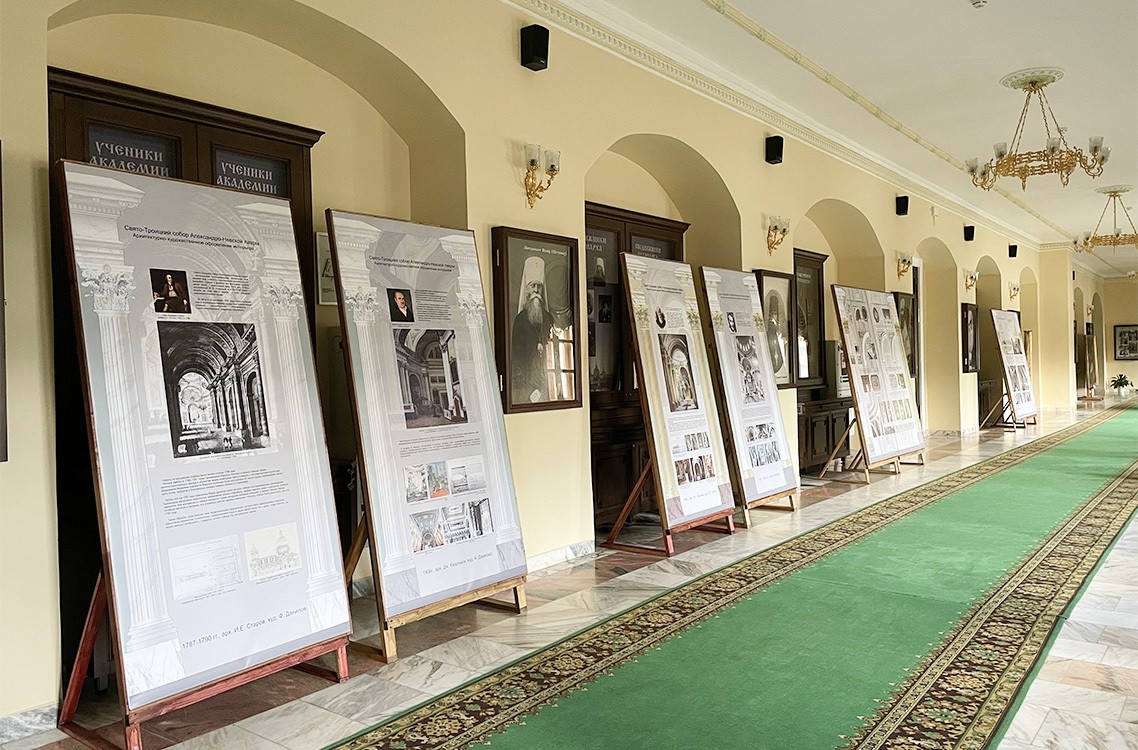 Currently, the interior is a mixture of decorative elements of different periods.
The coloristic design with yellow walls and white highlighting of architectural elements has been remained since restoration works of 1982–1987. At the same time, there was an equivalent of highlighting architectural elements with gold adopted in 1862. This variant now is hidden under late finishing layers. Monumental painting dates back to 1957-1960, when significant changes in a range of paintings were made. Later, they were periodically updated.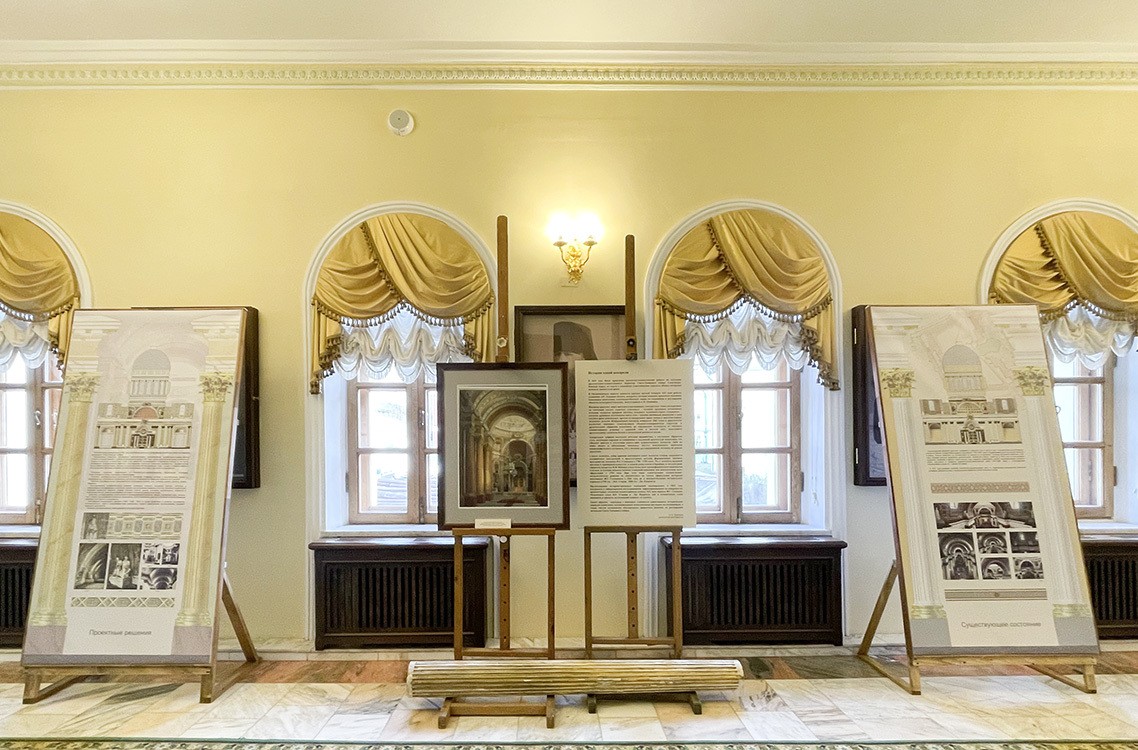 The proposed project provides a reconstruction of an original church environment known in 1862. There will be also a change of individual elements in pictorial compositions, gilding of architectural details and the implementation of a richer artistic decoration of the order system elements.
The project was approved by the Expert Council for Church Art, Architecture and Restoration.
The exhibition was created with the support of the St. Petersburg branch of ICOMOS, Russia.
Background information:
The Holy Trinity Cathedral of the Alexander Nevsky Lavra was built in the second half of the 18th century by the project of an architect Ivan Starov. The solemn consecration of the cathedral in the name of St. Prince Alexander of Neva, whose relics were moved here, took place on September 12, 1790.
The cathedral was distinguished by its rich interior. Outstanding artists and sculptors of that time were engaged in its painting and decoration. Works by foreign painters like Van Dyck, Bassano, Guercino, Strozzi and others were transferred to the cathedral from the Hermitage in 1794 by order of Catherine II. The interiors of the Trinity Cathedral were renovated twice in the XIX and in the mid XX century.
In 1934, the cathedral was closed and its premises leased to various organizations. The paintings got to the Museum Fund. The cathedral was returned to the Church in 1956, and from 1957-1997 was a parish church.
On June 3, 1989, the relics of St. Alexander of Neva were returned to the Holy Trinity Cathedral from the Museum of the History of Religion and Atheism.
The MThA Press Office