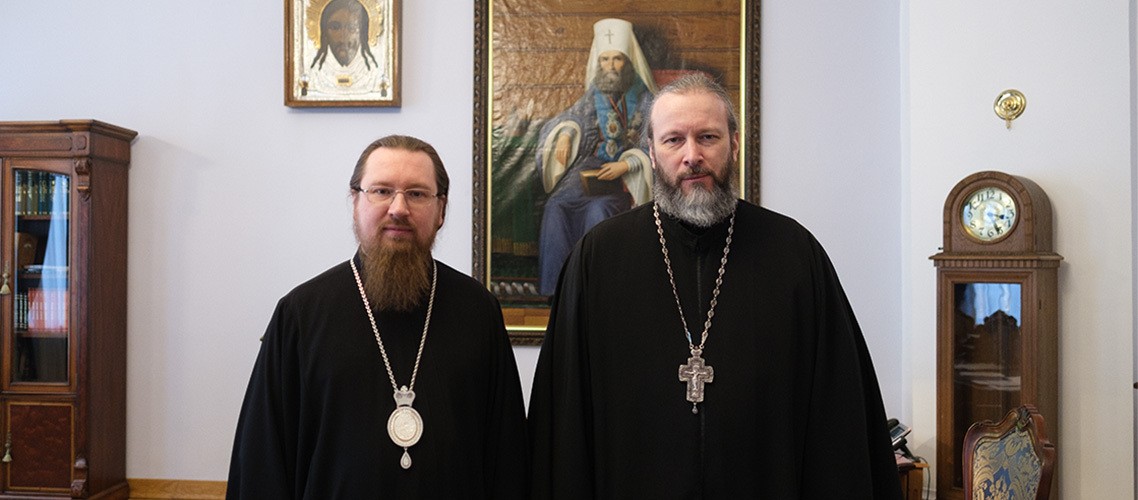 11 January 2022
Bishop Theodorite met with the Chairman of the Synodal Missionary Department of the Russian Orthodox Church
January 10, the Bishop Zvenigorod Theodorite, Rector of the Moscow Theological Academy, met with Hegumen Euphimius (Moiseev), Chairman of the Synodal Missionary Department and the Orthodox Missionary Society, Abbot of the Vysokopetrovsky Stavropighial Monastery in Moscow.
At the end of the meeting, Bishop Theodorite congratulated Hegumen Euphimius on his new post as a vicar bishop of His Holiness Patriarch of Moscow and All Russia and presented him memorable gifts.
Background information:
Hegumen Euphimius is a graduate of the Moscow Theological Seminary (1997) and the Academy (2001). After his graduation, he worked as a teacher at the Philology Department and a personal assistant to the Rector of the Moscow Theological Academy, who was responsible for publishing projects.